BENCHETLER: ESPN
Orignally found on ESPN.com
Chris Benchetler often sits on chairlifts (or more lately, his surfboard waiting for the next set) and muses about who in the world has the coolest life. Compared to his pro bretheren and photographer Adam Clark, the Mammoth native's "cool" beckett value rates in the top two percent adjusted to the current pro scene. (Read: Not including "cool" outliers like Glen Plake, Micah Black, or Mickael Deschenaux, all of whom significantly shift the beckett curve.) Notwithstanding, you might as well crown Benchetler the coolest skier in the world this Indian summer, as he recently got engaged to his long-time girlfriend, pro snowboarder Kimmy Fasani, traveled to Chile to ski on his new 192-centimeter pro model (the Atomic Bent Chetler), and rode 100 miles on his Giant road bike this past weekend to raise money for a local Mammoth charity. Lastly, he claims to have the best segment in Nimbus Independent's latest En Route webisode, which dropped last night on nimbusindependent.com. So in the spirit of September, Benchetler introduced his "most favorite Nimbus webisode ever" with an oh-so-cool roundup of his latest efforts to augment the aforementioned beckett rating.
You and the Nimbus crew — Eric Pollard, Pep Fujas, Andy Mahre, Blake Nyman, Dylan Hood, Anthony Boronowski et al — just released the second webisode of the En Route series. Let's talk about that.
This is my favorite webisode of them all. It's the best skiing performance by the crew. We scored good conditions, which always helps. And we actually split crews up, which worked surprisingly well. Pep and Blake went to Utah. I went up to Canada to meet up with Anthony and John Jackson [2010 Rider of the Year for Transworld Snowboarding magazine]. So I ended up hanging out with a bunch of snowboarders, which is fun for me since I grew up around so many here in Mammoth.
What makes this webisode so much better than the other ones?
I think Eric is getting better with telling the story without words. The editing keeps getting better. And we are obviously learning the more we keep producing these things in regards to what works and what doesn't. And this webisode is more jump-oriented than anything, even though we want to focus on the whole mountain a lot more.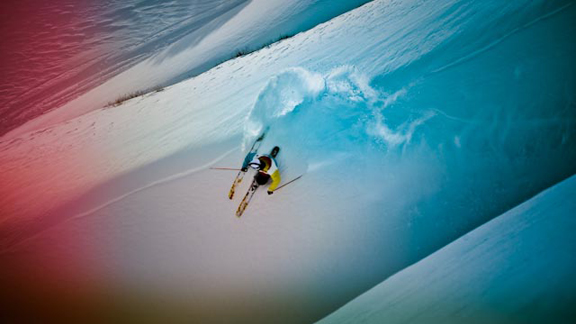 Erin Valverde-PollardChris Benchetler in Canada, creating his favorite segment of the websiode.
So is there one segment or shot in there that will leave an indelible mark in the exhaustive history of ski movie webisodes?
Yes, the Canada the segment is large and in charge. We hit a lot of big jumps and I think it's one of the first segments to have an A-plus snowboarder hanging out with some lonely ol' skier dudes.
So let me get this right: Earlier you were saying that you were in the Canada segment. And now you're saying that it's the best part in the webisode. Are you inferring and, promoting for that matter, that you're the best skier in the webisode?
Yes, absolutely, but I'm promoting John [Jackson] more. He killed it.
So the reason we should watch your "favorite Nimbus webisode ever" is to watch a snowboarder?
C'mon, man … I'll admit, I skied well. I had a good trip. And we only had four days of sun, but we used nearly everything and all of it was good.
Changing subjects. Rumor has it you're driving to "downtown" Mammoth to register for a century ride. Shouldn't you be riding your bike there?
Well, yes, but I'm riding in the 16th High Sierra Fall Century taking place in Mammoth Lakes, California. The proceeds from my registration [and others] raises money for the Sierra Cycling Foundation, which supports safer road conditions, safer riding for recreation and rehabilitation. I road bike and mountain bike quite a bit during the fall and summer, so I thought, why not support a good cause?
Wait, I'm confused. Are your road biking 100 miles or mountain biking?
I'm riding on my road bike. I have a Giant and that's all I know about it. I got a good deal on it from my mother, who works in retail.
Slow down, Chris. Are you telling me that Chris Benchetler, the king of the safety grab, even takes advantage of a pro-form deal?
You got it. Just don't forget how good I am at mute grabs.
Sure, whatever. Speaking of giant, you recently proposed to your long-time girlfriend. Care to make that announcement public?
Ah, yes, we dated for six years or … [checks with Kimmy]. No make that seven years. I've had the ring for quite some time and waited for the perfect opportunity. I made her do a beacon search to find the ring up at the lake. When she was close to the transmitting beacon, she noticed the roses on top of the beacon and immediately asked, "Are you serious? Oh my God." And then she said yes.
Again, I'm confused. Was the beacon buried in the sand? If so, how did the ring not become damaged?
I didn't actually bury it in the sand. I'm a little bit smarter than the average bear. So I snuck the ring in a backpack and Kimmy just had surgery on her meniscus, so we had to take it easy. So I told her, 'Oh, I'll just put some snacks in the backpack just in case you want to take it real slow.' So I did that and stuffed a dozen roses in there. And I convinced her that it would be good to do a beacon test, because I was going to Chile the next week and I needed a refresher. And I ended up making her go first, even though I was the one going to Chile.
And you just got home from Chile, right? Where you skied your new 192-centimeter pro model. What's the story with the 192 compared to the 183 length?
10 The 192 is for a skier who is little bit taller and looking for more ski because when you ski a rockered ski, your contact point is shorter. So a 192 made sense and it was something I wanted when I was skiing big-mountain lines — something a little longer. It has the exact same sidewall construction, but we stiffened up the tail by 15 percent and we dragged out the contact point, which changes the turn radius. So it feels a little more stable and stiffer. In fact, I actually love the 192 so much that I'm thinking about stiffening the tail in my 183. And, yes, it'll have the same graphic as the 183. Both of which will be in shops this fall as soon as you finish watching the webisode.